Affordable 6-Speed Hand Mixer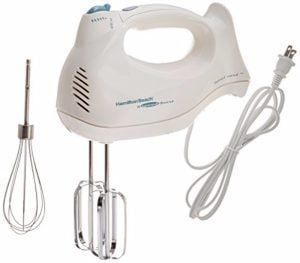 Product Name: Hamilton Beach 62695V Power Deluxe Hand Mixer
Product Description: Hamilton Beach Hand Mixer
Price: $$
Currency: US
Availability: InStock
Summary
The Hamilton Beach 62695V Power Deluxe Hand Mixer performs exceptionally well and suits the purposes it is intended for.
Hand mixers are popular kitchen appliances which reduce overall preparation time to prepare delicious meals. They come in handy in the preparation of baked items. This preparation might become a bit messy, so a mixer must be able to work on slower speeds to reduce the mess.
The Hamilton Beach 62695V Power Deluxe Hand Mixer is a powerful yet a 6 speed mixer, which provides optimum performance and beats and whips the mixtures well. Within this price range, it is a comparatively better appliance than many other brands. It is loaded with some amazing features.
Convenience and comfort first
With the Hamilton Beach's power deluxe hand mixer, you can now whip up any decadent cake, pizza dough or cookie mixture. The versatile mixture has features which first look for comfort and convenience of the user.  For the start, there is a built in bowl rest, this makes it easier for you to pour down all the ingredients and mix them while adding others.
It has a conveniently designed handle which does not cause any fatigue to the user while handling. It has 6 different speed settings, the slower ones at first to avoid messy splatters. This is also to provide for smooth mixing of runny mixtures.
Additional attachments
The hand mixer comes with additional attachments; they come with beaters and the traditional whisks. What's more, the user now need not to worry about the misplaced attachments, this deluxe hand mixer comes with a snap on storage case. It can house all the attachments plus the cord.
The case has an easy access door, which then snaps on to the appliance and keep all the accessories safe. The mixer works on the peak power of 275 watts. It is an ideal appliance for cake mixing and other whipping and beating tasks.
Specs and Features
Product Dimensions: 9 x 4 x 5.5 inches
Item Weight: 2.5 pounds
Color: White
Material type: Stainless steel
Peak power: 275 watts
Check Out Our Review of the Best Hand Mixers of the Year
Pros
Provision of 6 speeds along with a QuickBurst button
The slower speed at first reduce the incident of mixture spilling and mess
Includes additional attachments of beaters and whisks
Ease of use due to Bowl Rest feature
Snap on storage case to prevent loss of attachments
Durable and long lasting mixer
Cons
Mixing speeds may not be as slow to reduce splatter
Motor may give of smoke or spark
Verdict
The Hamilton Beach 62695V Power Deluxe Hand Mixer performs exceptionally well and suits the purposes it is intended for. Although some incidents of rendering of smoke and sparing were reported, they were investigated to be the result of careless handling. Other users have rated it highly and given positive reviews.
The feature which was liked the most was the integration of a snap on storage case. The housewives were happy that their accessories are now safe and they would not be losing them again. It is suitable for a variety of baking tasks. Hamilton's deluxe hand mixer is a highly rated product.