Hand mixers have become an essential kitchen small appliance but finding one that offers quality at an affordable price is harder than you think. Leading brands like VonShef, Hamilton Beach, Sunbeam and more give you the best of both worlds while delivering a promise of quality, performance and durability. Hand held mixers have evolved over the years making them more efficient with much more control.
Cheap hand mixers may be cheap in price, but when it comes to quality there are many options to chose from. We've looked at the best options out there and introduced them below. We've taken particular attention to their functionality, practicality and of course value while creating the perfect consumer-based review.
The following review details the Top 10 Cheap Hand Mixers Under $25 in 2020 sold on Amazon which will help ease your buying decision.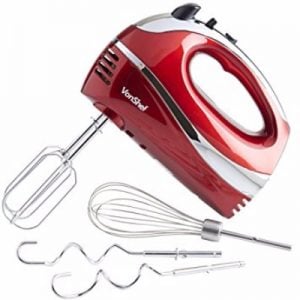 9.6/10
Pros
Inexpensive
Durable
Attractive look
Compact design
Available with additional accessories
Cons
You may face difficulty while changing the speed of this mixer instantly
This 250-watt hand mixer from VonShef gives you everything you need at a fraction of the price. Priced under $25 you get a high-quality mixer which has become an Amazon best-seller with over 600 all-positive customer reviews. VonShef has become a leading brand in the kitchen and it's products like this that gave them a great reputation.
Available in both red and a cream white color and delivering 250-watts which is plenty of power for whipping, mixing and more. Featuring 5 speeds for precise control and a turbo button which gives you that extra boost when mixing thicker ingredients. For the price you won't go wrong, especially since it includes a dough hook whisk and beaters.
SPECS AND FEATURES
250-watt powerful motor
Washable additional accessories, including dough hook, whisks and beaters
Adjustable speed options
Lightweight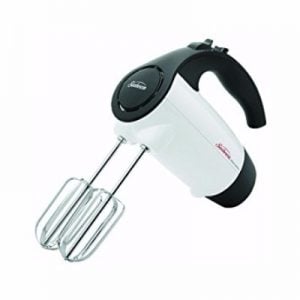 9.2/10
Pros
Inexpensive
Easy to use and grip
Attractive combination
Suitable for any type of mixture
Cons
Lightweight so delicate in nature
When it comes to value-based brands in the kitchen, there is no better name then Sunbeam. Coming in at under $20, the Sunbeam 2526 offers a simple solution to hand held mixers. This mixer delivers 220-watts of power which is more than enough for common mixing, whipping and blending which will allow you to mix up all your favorite foods.
The Sunbeam 2526 is a 6-speed mixer which gives you greater control compared to most. There's also a heal and bowl rest which improves user comfort and makes it simple to add ingredients. For a boost of power at the touch of a button, the burst of power feature will do just that. Included is the mixer and chrome beaters which are dishwasher safe.
SPECS AND FEATURES
220-watts
Adjustable 6-speeds
Bowl and heel rest feature
Sturdy and powerful motor
2 full-sized beaters are also included within the package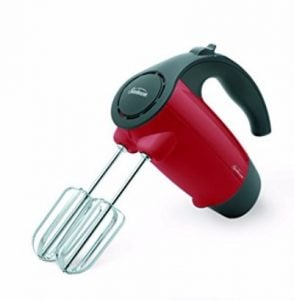 8.8/10
Pros
Light in weight
Inexpensive
Easy to Cary and manage
Adjustable speed
Compact design
Cons
Some say it's too light which makes it difficult to handle
Scoring an 8.8 out of 10 and claiming the 3rd spot in this review is a red and grey hand mixer from Sunbeam. This mixer gives you 200-watts of power which is great for mixing thin to medium-grade ingredients like batter, eggs and more. For common uses, this mixer is perfect and offers a simple to use and easy to clean option.
Sunbeam packs in a whole lot of value for well-under $25 including 6-variable speeds for improved control. Other features include a comfort grip for improved ergonomics, burst of power button for a boost and dishwasher safe chrome beaters. Not bad for the price.
SPECS AND FEATURES
Variable yet controllable speed
2 chrome beaters
Burst of power feature
200-watt powerful motor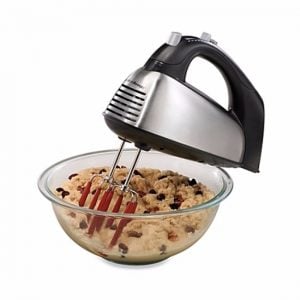 8.7/10
Pros
Features a Snap-On storage case
Good quality coated beaters which softly scrape bowl for thorough mixing
SoftScrape beaters would not scratch the bowls
Beaters can be safely used in nonstick pans
Durable and safe to be washed in dishwasher
Cons
The SoftScrape from Hamilton Beach is an Amazon top-choice and is priced just over $25. This mixer is one of the best values in this review if you're looking for a mixer you can count on for years to come. Durable, powerful, variable speed and including a case makes it easy to see why it deserves the 4th spot in this review.
The Hamilton Beach SoftScrape weighs 4 pounds which is slightly more than other hand-held mixers but offers a more durable exterior. The 290-watts of peak power allows you to mix thicker ingredients than other mixers in this review. Included are wire beaters, whisk, dough hooks and a case for added convenience.
SPECS AND FEATURES
Product dimensions: 10 x 9.8 x 4.5 inches
Item Weight: 4 pounds
290 Watts peak power
Includes wire beaters, dough hooks and whisk
Includes a case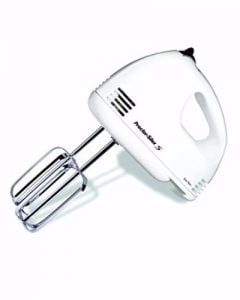 8.6/10
Pros
Attractive in look, durable in performance
Available with warranty
Compact design
Inexpensive
Simple to use
Cons
Proctor Silex makes an appearance in this review with an efficient, cheap hand held mixer. Scoring an 8.6 out of 10 and does everything you would expect it to do in a lightweight, durable frame. Complete with 5-speed variable speed setting which gives you control over mixing for improved precision.
This white hand mixer is another top-seller on Amazon with over 300 positive customer reviews. Highlights include 5 variable speeds, bowl rest, push button beater ejection, comfortable handle and a one-year limited warranty. The power output comes in at only 125-watts which is less than most other mixers in this review.
SPECS AND FEATURES
Adjustable 5-speed settings
Bowl Rest feature
Chrome beaters
Lightweight
8.4/10
Pros
The slower speed at first reduce the incident of mixture spilling and mess
Includes additional attachments of beaters and whisks
Ease of use due to Bowl Rest feature
Snap on storage case to prevent loss of attachments
Durable and long lasting mixer
Cons
Mixing speeds may not be as slow to reduce splatter
A step up in performance, but slightly more in price is the Power Deluxe Hand Mixer from Hamilton Beach. This mixer delivers 275-watts of power which is all you need to mix, blend and whip your favorite foods including cake batter, eggs and a whole lot more. Perfect for home use and one of the best-selling hand held mixers on Amazon.
The Hamilton Beach Power Deluxe comes in at only 2.5 pounds making it comfortable to use. The variable speeds including a slower speed helps minimize any messy splatter. There's a total of 6-speeds and a one-touch Quick Burst button making it easy to power through thick ingredients. The bowl rest feature makes it easy to add your favorite ingredients which is another bonus.
SPECS AND FEATURES
Product Dimensions: 9 x 4 x 5.5 inches
Item Weight: 2.5 pounds
Color: White
Speeds: 6 variable
Peak power: 275 watts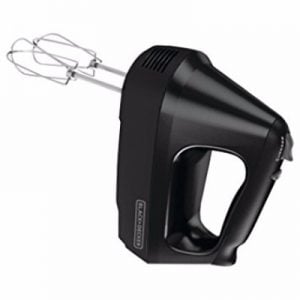 8.3/10
Pros
6 different speed settings
250 watts of power for ultimate performance
Lightweight appliance
Ergonomic design for ease in use
Additional feature of bowl and heel rest
Cons
Difficult to eject beaters
This Black & Decker hand mixer is available in black and weighs just 2-pounds. When it comes to keeping it simple Black and Decker does it best while delivering value and plenty of attachments for extended use. Included is the mixer, two professional wire beaters, dough hooks and all accessories are dishwasher safe.
The Black & Decker MX3200B is priced to sell. Powered by a 250-watt motor which allows you to start off slow and finish mixing fast. The slow start feature is 20% less than previous Black & Decker mixers which reduces messy splatter. There is also a power boost function which increases the speed of the mixer to its max for mixing thick batter and ingredients.
SPECS AND FEATURES
Product Dimensions: 9 x 3.8 x 7.2 inches
Item Weight: 2 pounds
Material type: Plastic
Color: Black
Peak power: 250 watts
Includes professional wire beaters, whisk and dough hooks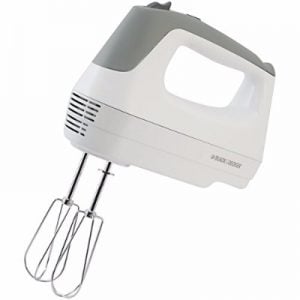 8.3/10
Pros
Ergonomic design for the comfort in handling
Slow speeds at the beginning for reduction of mess
Additional features of bowl and heel rest
Powerful motor to suit most of the aerating, beating and whipping tasks
Best product within this price range
Cons
Available only in one color
This lightweight mixer from Black & Decker is one of the cheapest in this review. While the price may be cheap, it includes a ton of value including in it's 1.1-pound frame that delivers 175-watts of power. For speed options, it gives you 5-variable speeds for achieving the desired consistency. For added comfort, user's have come to appreciate the comfort grip.
The Black & Decker MX1500W has a max peak power of 175-watts which is enough to common mixing. Out of the box you get the mixer and professional style beaters which are dishwasher safe and durable enough to mix batter, dough and sauces. There is also a heal and bowl rest feature for added convenience which allows the mixer to sit upright on its heal on the countertop or rest on the side of the bowl.
SPECS AND FEATURES
Item Dimensions: 5.99 x 4.2 x 7.3 in
Item weight: 1.1 lbs.
Material: Plastic
Color: White
Peak power: 175 watts
5 different speed settings
Includes additional accessories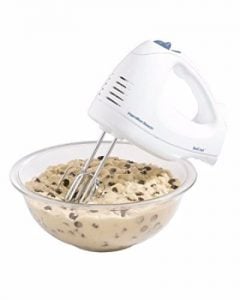 7.7/10
Pros
Peak power of 250 watts provide for performance on heavy mixtures
Snap on storage case facility to house accessories
Featured bowl rest for ease in use
Features 6 speed settings plus a quick burst option
Includes attachments of traditional style beaters and whisk
Cons
Fitting the beaters might be difficult
Another cheap hand-held mixer is from Hamilton Beach and scores a 7.7 out of 10. Including a case which holds the mixer and attachments like the beaters and whisk. Coming in at under $15 you will have a hard-time finding a better value when it comes to hand mixers anywhere on Amazon.
The Hamilton Beach 62682RZ is a 250-watt mixer and is aggressively priced. Onboard there are 6-speeds for precise mixing of dough, batter, eggs and more. There's a bowl rest feature allowing you to conveniently rest the mixer on the edge of the bowl while adding ingredients and a Quick Burst button for an extra boost of power when mixing thick ingredients like dough or batter.
SPECS AND FEATURES
Item Dimensions: 5.7 x 8.3 x 9.2 in
Item weight: 3.35 lbs.
Material type: Chrome
Color: White
Size: Medium
Peak power: 250 watts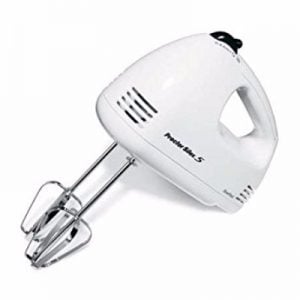 7.4/10
Pros
Inexpensive
Durable
Easy to use and convenient to grip
Available in two attractive colors
Hugh-quality material is used in its making
Cons
Lower power output, only 100-watts
Proctor Silex rounds out this review with another cheap hand mixer priced to sell. Scoring a 7.4 out of 10 and delivering everything you need for mixing thin, traditional ingredients like eggs and cake batter. Powered by an efficient 100-watt motor which isn't the most powerful but delivers enough for conventional use.
The Proctor Silex 62509RY is a 5-speed model and is available in a simple white and black. Easy to use and includes full-sized chrome beaters which are dishwasher safe. Other features include a convenient bowl rest feature which makes it easier to add-in ingredients and a beater eject butto. Becoming an Amazon best-seller with over 1700 all-positive customer reviews, it's easy to see why this cheap hand mixer makes this review.
SPECS AND FEATURES
Adjustable 5-speed settings
Bowl rest feature
Removable and washable beaters
100-watt sturdy motor
Closing
When looking at the beast hand mixers priced under $25 above you won't go wrong with any purchase made. These mixers offer the perfect balance of quality, performance and value while looking at what a consumer depends on the most. If you have any questions or anything to add, feel free to leave us a comment below.