When it comes to stand mixers it's hard finding that diamond in the rough that performs like we want without breaking the bank. The average price of a kitchen stand mixer is well-over $100, but we've managed to find high-quality, but cheap stand mixers for under $100. We've tried and tested these and made sure they perform like mixers priced much more and are built to last.
Stand mixers have become a necessary part of the kitchen. Over the years, high-quality appliances from all the top brands gives you a commercial-like cooking experience in the comfort of your own home. Brands like KitchenAid, Sunbeam, Oster and many more have been considered to bring you yet another comprehensive review.
The following details the 5 Best Cheap Kitchen Stand Mixers Under $100 in 2020 while looking at ease of use, durability, features and much more.
9.7/10
Pros
More speed options than comparable model
Ridiculous price for what you get
Bowl is dishwasher safe
Stylish look
Comparable in performance to KitchenAid stand mixers, but much cheaper
Cons
May splash batter out of the bowl
Hamilton Beach keeps it simple with this stand mixer which delivers superior performance for a fraction less than competitors. The 63390 has become an Amazon best-seller with a near 5-star rating and over 200 happy customers. This mixer features a 300-watt motor and gives full-mixing coverage around the entire inside of the bowl.
The Hamilton Beach 63390 stand mixer delivers far better mixing action than standard 2-beater mixers. There are 7-speeds onboard giving you plenty of versatility with a hands-free mixing action as the mixing head completely rotates. Other features include a flat beater, dough hook, whisk, non-slip feet, splatter shield, and much more.
Specs and Features
300-watt motor
7-speeds
Dimensions: 13.1 x 8.5 x 13 in
Weight: 12-pounds
Includes dough hook, whisk and flat beater
9.0/10
Pros
Very reasonable
Easy to use
Great design
Multi-purpose and versatile
Commendable folding action
Cons
Speed dial works only on highest speed
Hamilton Beach does it again, but this time with a 6-speed stand mixer scoring a 9.0 out of 10. This stylish mixer gets the job done and delivers the same great performance comparable to KitchenAid mixers priced hundreds more. The black and stainless-steel exterior gives you an exquisite look which makes it easy to match the rest of the décor.
The Hamilton Beach 63325 stand mixer offers much more than just style and gives you to options to choose from. Highlighted by a powerful 300-watt motor which is hard to find in this price range and delivers a mixing action that covers the whole inside of the bowl. Aside from the mixer you get 3 included attachments for whipping, mixing and creaming.
Other highlights include 6-speeds, dough hook, whisk, flat beater, 3.5-quart mixing bowl that is dishwasher safe, non-slip feet and much more.
 SPECS AND FEATURES
Color: Black
Product dimensions: 14.5 x 14 x 14.5 inches
Weight: 11.05 pounds
Material type: Steel
Wattage: 300 watts
Number of speeds: 6
8.7/10
Pros
Sleek and convenient design
High-quality material is used
3 types of attachments are included
Affordable
Versatile
Cons
If you're looking for more power than step up to the MixMaster from Sunbeam. This stand mixer delivers 350-watts of power which saves you time in the kitchen and delivers superior performance. Highlighted by Sunbeam's Soft Start technology which cuts down on splatter often seen with stand mixers and helps keep your work area clean.
The Sunbeam 2371 is a simple mixer, but gets the job done. The tilt head locks into place which gives you easy access to the inside of the bowl. There is also a button release which disengages the attachments for simple removal. There're also 12-speed settings giving you more control over for precise ingredient mixing.
SPECS AND FEATURES
350-Watt power with 12 speed settings
Soft start technology
Soft grip handle
Tilt locking head along with a bowl selector switch
Additional accessories include chrome beaters, dough hooks, whisks, and 2 glass bowls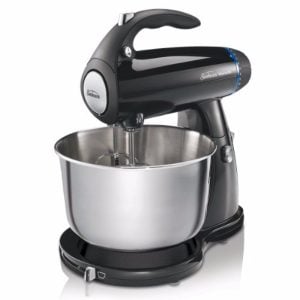 8.7/10
Pros
Lightweight
Works on advance technology
Adjustable speed settings
Prevents splashing of batter
Simple to use
Cons
Bowl is made of low quality plastic
For just over $50 you can get your hands on this Sunbeam MixMaster which includes dough hooks and beaters. Scoring an 8.7 out of 10, The Sunbeam 2594 delivers 350-watts of power with 12-speed settings perfect for baking deserts and all your favorite meals.
The Sunbeam 2594 MixMaster features a Burst of Power function which gives you extra power for mixing thicker ingredients and batter. There's also a synchronized 3-way mixing action which helps reduce build-up on the sides of the bowl while evenly mixing on any speed setting. For the price you'll have a hard time finding a better performing stand mixer.
 SPECS AND FEATURES
350 watts mixing power to ensure smooth blending
12-speed settings
Weight: 10-pounds
Adjustable multi-speed settings
Burst-of-Power provides fast and even blending of ingredients
Features soft start technology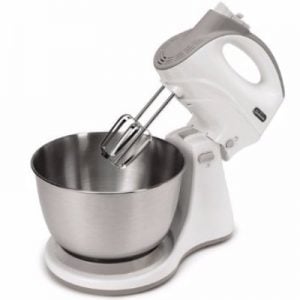 8.2/10
Pros
High-quality and durable material is used in its manufacturing
Hand mixer and stand mixer combo allows user comfort
Multi speed settings
Available with manufacturer's warranty
Suitable for heavy mixing
Cons
Creates mess during blending process
Another great buy is this 250-watt Sunbeam mixer which is a hand and stand mixer combo. Filling the role of two appliances in one, this mixer can do the work like the bigger mixers do with ease. For only 250-watts of power you wouldn't realize it and you get the added convenience of having both mixers in one. Available in both black and white models and priced to sell for around $50.
The Sunbeam mixer combo features 5-speed settings giving you great control. For improved comfort, there's a unique heal rest design on top of the mixer which users have raved about. Other features include a 3-quart stainless steel bowl that's dishwasher safe and a Power Burst button which gives you extra power when mixing heavy ingredients.
SPECS AND FEATURES
250 Watts motor
Adjustable speed settings
3-quart stainless steel bowl
Hand mixer and stand mixer combo
Available with dough hooks and chrome beaters
Weighs only 3 pounds
Closing
The above cheap kitchen stand mixers under $100 are perfect additions to any kitchen in 2020. We've looked at all aspects from the consumer point of view to give you yet another comprehensive review. If you have anything to add, be sure to leave us a comment below.