A hand held mixer is probably the single most important small appliance and it's the one we all see to forget about. There are many tasks around the kitchen which just can't be done without a bit of help and mixing, and whipping ingredients is one of them. These small, but powerful appliances make it possible to cook up our favorite food and desert.
Over the years we've seen home cooking become more and more popular and we expect this trend to continue looking forward. Finding that one hand held mixer that meets our needs as a consumer is difficult, especially when looking for a balance of price and performance. We've done all the hard-work for you and looked at everything the average user comes to expect which leads us into our next review.
This review details the Top 10 Hand Mixers of 2020 while basing our choices on getting you the most bang for your buck.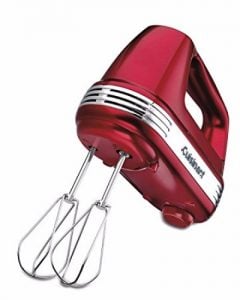 9.8/10
Pros
220 watts' power make it suitable for heavier ingredients
Automated feedback to boost in additional power
A feature of SmoothStart with 3 lower speed settings
Easy to use One step power switch
7 speed settings with LED Display
Cons
The Cuisinart HM-70MR is our choice for the best hand held mixer in 2019 giving you the best of both worlds when it comes to value and performance. This 7-speed hand mixer was made to last in a lightweight frame that's more comfortable then most. Highlighted by a durable stainless-steel surround but coming in at only 1.3 pounds making it extremely lightweight.
The stylish look is accented with a chrome surround giving it an exquisite look. Highlight features include Soft Start technology which reduces splatter, 7-speed LED display, beater ejector lever, one-touch power switch and a simple to use speed control. The variable speed option gives you much more control letting you dial in for precise mixing.
SPECS AND FEATURES
Product Dimensions: 8.1 x 5.9 x 3.6 inches
Item Weight: 1.3 pounds
Item model number: HM-70MR
Color: Metallic red
Peak power of 220 watts
Material type: Stainless steel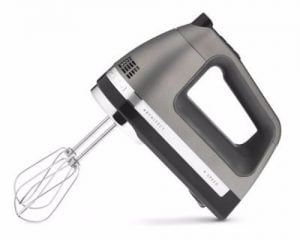 9.8/10
Pros
Works great for all types of mixtures, including dry and wet ingredients
Available with storage bag for keeping all the attachments and the mixer
Durable
Convenient for both, left-handed or right-handed people
Stylish design
Cons
Little expensive than similar mixers
This 9-speed hand held mixer from KitchenAid includes a turbo beater, dough hooks, liquid blender rod, whisk and accessory bag giving you an all-in-one solution for mixing, blending and whipping anything in the kitchen. With 9-speeds to chose from you can rest assured you'll get the desired consistency for perfect batter, eggs or anything else you mix.
The KitchenAid KHM920A hand mixer is available in four color options including black, white, red and silver which has become the top-seller. With nearly 200 all-positive customer reviews it's easy to see why this mixer makes this review, especially considering it's the last mixer you'll need for years to come. KitchenAid did it right while introducing a professional grade hand mixer that was built to last.
SPECS AND FEATURES
Adjustable multi speed settings
Removable additional accessories are available
Stainless steel body
9-speed settings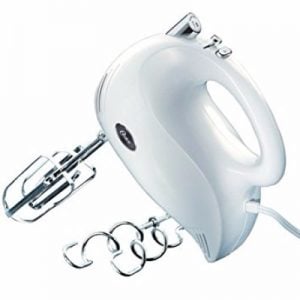 9.7/10
Pros
Inexpensive
Doesn't make noise while working
Perfect for mixing fewer ingredients
Easy to use
Comfortable
Cons
Not suitable for heavy mixing
If you're looking for to keep it simple, then Oster introduced this 5-speed hand mixer that does just that. Priced to sell around $25 and becoming an Amazon top-choice and available in both black and white for those looking for color options.
The Oster 2500 features a 240-watt motor which is powerful enough to handle traditional home cooking. For thicker ingredients, there's a burst of power function which makes it easy to mix through batter while at any speed. The adjustable speed setting lets you mix precisely with 5-speeds to choose from.
It's lightweight, compact design makes it comfortable to use and the one touch beater ejector makes cleanup a breeze.
SPECS AND FEATURES
Adjustable multi speed settings
Sturdy motor
Small and compact
Lightweight
Removable dough hooks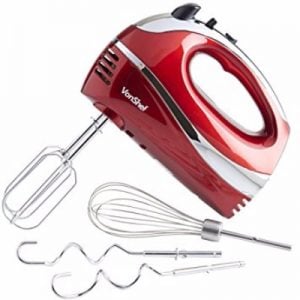 9.6/10
Pros
Inexpensive
Durable
Attractive look
Compact design
Available with additional accessories
Cons
You may face difficulty while changing the speed of this mixer instantly
VonShef did a great job introducing an affordable, yet stylish hand mixer available in cream white and emerald red. Powered by an efficient 250-watt motor perfect for mixing, whisk and kneading. For thicker batter there is a Turbo Button which gives you an extra boost of power while letting you change the speed with 5-speeds to choose from.
Out of the box you'll get the mixer, two dough hooks, two beaters and a balloon whisk. All included attachments are stainless-steel and dishwasher safe which makes cleanup simple. Users have raved over its comfort and ease of use in a lightweight, stylish frame.
SPECIFICATIONS AND FEATURES
250-watt powerful motor
Washable additional accessories, including dough hook, whisks and beaters
Adjustable speed options
Lightweight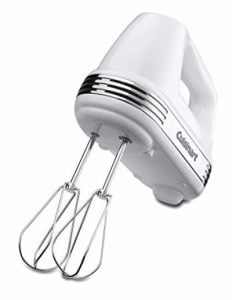 9.4/10
Pros
Optimized hand blender with a 220-watt motor
Automated feedback feature
7 speed options and easy speed shift with single touch
Easy beater eject lever for safe removal
Includes extra-long beaters, spatula, instruction book and chef's whisk
Cons
Difficult to work with thicker dough
Another great option is the Cuisinart HM-70 which is available in 5 colors including white, red, green, brushed chrome and chrome. At this price you won't go wrong, especially considering it was built to exceed North American Electrical Standards. The 2.6 pound frame isn't the lightest, but is one of the more durable hand held mixers in this review.
The Cuisinart HM-70 includes chef's whisk, spatula and beaters and all accessories are dishwasher safe. Other features include 7 variable speeds with a slide control which makes it easy to switch from speed to speed during use, beater eject lever and a swivel cord which tucks conveniently out of the way during use.
SPECS AND FEATURES
Item Dimensions: 4.25 x 9 x 6 in
Color: Silver, Brushed Chrome, Charcoal, Green
Item weight: 2.6 lbs.
Material type: Chrome plated
Crafted according to North American Electrical Standards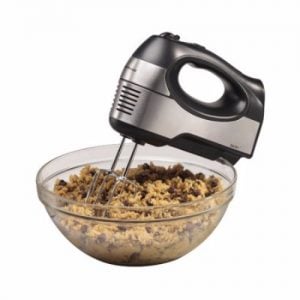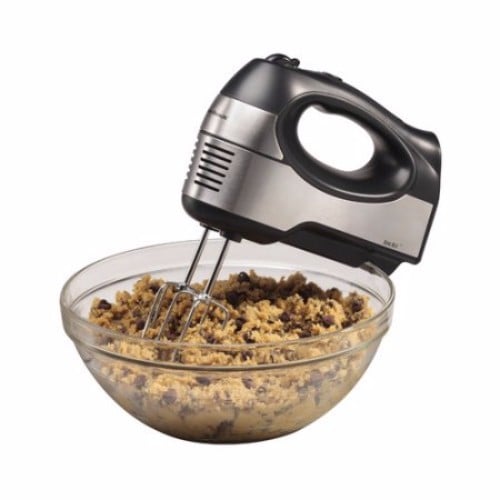 9.4/10
Pros
Bowl Rest Feature
Quick Rest Technology
Storage case included
300 watts peak power
Cheaper than other brands
Cons
Plastic material was discouraged
If you're looking for a hand mixer with enough power to mix, whisk and even knead dough with ease, then this Hamilton Beach mixer is a great place to start. Priced around $30 is a steal considering it's powered by a 300-watt motor and comes in weighing only 1 pound. Despite its weight it's more durable than it looks thanks to the stainless-steel surround.
The Hamilton Beach 62647 features 6-speeds and features a QuickBurst function. This gives you an extra boost of power at any speed making it easier to power through thicker ingredients. It also has a bowl rest design allowing the mixer to rest on the edge of the bowl when adding ingredients. Included accessories are a storage case, whisk, dough hooks and beaters.
SPECS AND FEATURES
Product Dimensions: 5 x 8.3 x 5.1 inches
Item Weight: 1 pounds
Shipping Weight: 7 pounds
Manufacturer: Hamilton Beach
Origin: China
Material: Stainless Steel
Color: Metallic Gray
Item Weight:1 lbs.
Material Type: Plastic
Items Included: Hamilton Mixer, 2 beaters, whisk, 2 dough hooks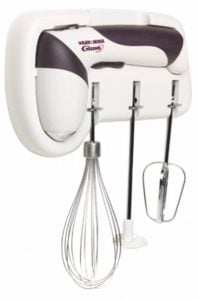 9.2/10
Pros
Convenient heel rest for better working
2 different speed settings
Easy wall mountable storage caddy
Comes with 3 different attachments i.e. beater, drink mixer and whisk
Completely safe to be used in a dishwasher
Cons
Less speed settings than the corded mixers
The Gizmo is not your average hand held mixer which is exactly what users have come to appreciate. This rechargeable, cordless mixer includes a docking station which charges the mixer when not in use and holds the included accessories including the beater, wire wisk and drink mixer. The wall mountable storage caddy is simple to mount and can be placed anywhere around the kitchen.
The head on the Black & Decker Gizmo easily rotates converting it from a traditional hand mixer into a drink mixer. Other features include a soft grip handle 2-speed settings and all attachments are dishwasher safe.
SPECS AND FEATURES
Product Dimensions: 9.6 x 9.1 x 3.6 inches
Item Weight: 2 pounds
Color: white
Power source: cordless electric
Battery type: Rechargeable nickel-cadmium batteries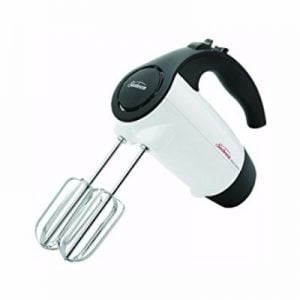 9.2/10
Pros
Inexpensive
Easy to use and grip
Attractive combination
Suitable for any type of mixture
Cons
Lightweight so delicate in nature
Another great hand mixer in this review is the Sunbeam 2526 which claims a 9.2 out of 10. This mixer keeps it simple with basic controls for adjustable speed giving you 6 speeds to choose from for precise control. There is also a bowl and heel rest feature which allows you to rest the heel of the mixer on the edge of the bowl while adding ingredients.
Powered by a 220-watt motor it gives you enough power for mixing and whipping common ingredients. There is also a burst of power feature which gives you that extra boost of power to mix through thicker ingredients like dough. Included is the mixer and 2 full-sized beaters which are dishwasher safe.
SPECS AND FEATURES
Adjustable speed
Bowl and heel rest feature
Sturdy and powerful motor
2 full-sized beaters are also included within the package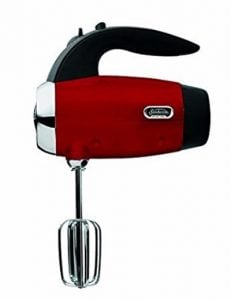 9.2/10
Pros
Inexpensive
Available with warranty
Attractive color and design
Stylish look
Cons
Lightweight makes it delicate to handle
The Heritage hand mixer from Sunbeam has become a classic. The unique candy apple red color has become a consumer favorite making it difficult for Amazon to keep it in stock. The space saving design includes a vertical storage caddy which holds the mixer, beaters and cord wrap.
The Sunbeam Heritage hand held mixer has 5 speed settings. This gives you more control while mixing and its easy to change the speeds while in use. The classic design has all the modern features we've come to expect in a hand mixer and at an affordable price.
SPECS AND FEATURES
Adjustable speed settings up to 5
Chrome beaters
Comfortable grip
Compact design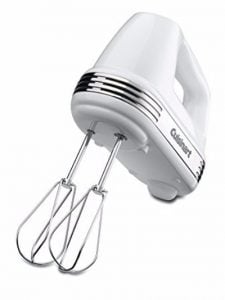 9.1/10
Pros
Allows the maximum possible power with balance
Automated feedback of extra power as and when needed
Unique and exclusive rotating cord
Beater release lever for easy ejection
Longer beaters for better aerating and whipping
Cons
Cuisinart makes another appearance in this review with a mixer that exceeds all North America Electrical safety standards. The HM-50 Power Advantage is available in four colors including lime green, red, white and black. The sleek design is easy on the eyes and its durable construction means you'll be using it for years to come.
The Cuisinart HM-50 has 5 speed settings and is powered by an efficient 220-watt motor. The slide control level makes it easy to adjust the speeds while in use with just a single touch giving you all the control right at your fingertips. Other notables include beater eject lever, swivel cord and it includes a spatula and extra-long beaters which are dishwasher safe.
SPECS AND FEATURES
Product Dimensions: 5 x 9 x 9 inches
Item Weight: 4 pounds
Color: White, Red, Peridot, Water melon Sorbet, Black
Material type: Plastic
220 Watt motor
Built to suit North American Electrical standards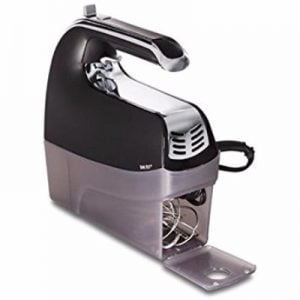 9.0/10
Pros
Snap on storage case to house accessories with easy access door
Pulse function on the slowest speed for lesser mess
Additional attachments include twisted wire beaters, milkshake mixer, whisks, dough hooks.
A conveniently placed eject trigger for the attachments
Cons
The Hamilton Beach 62620 is one of the best bargains in this review. Giving you 6-speeds to choose from which is more than most and available in four colors including green, blue, black and purple. The highlight is the snap-on storage case which allows you to conveniently tuck the cord away when not in use which helps minimize clutter.
For power, the Hamilton Beach 62620 is powered by a 290-watt motor. There is also a QuickBurst button for that added boost when you need it the most making it easier to whip through thick ingredients like dough and brownie batter. There is also 6 included attachments including dough hooks, milkshake mixer, twisted wire beaters and a whisk.
SPECS AND FEATURES
Product Dimensions: 3.9 x 9.9 x 10 inches
Item Weight: 3.4 pounds
Peak power: 290 watts
Material type: Plastic
Color: Black, Blue, Green, Purple
6 additional attachments
6 different speed settings
QuickBurst button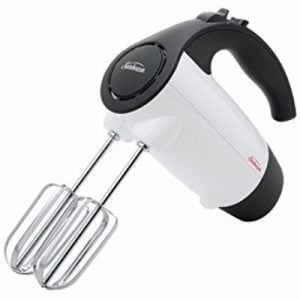 8.9/10
Pros
Inexpensive
Adjustable speed
Lightweight makes it easy to carry for a long time
Compact design
Cons
One of the most budget-friendly hand mixers in this review claims the 12th spot. This 220-watt mixer comes in around $20 which is a small price to pay with 220-watts of power rated for exceptional performance. When mixing thick ingredients, turn on the Burst of Power which gives you a bit more making your job easier.
The Sunbeam 2525 is easy and comfortable to use thanks to the soft grip handle. The cord is also retractable and tucks away for convenient storage and helps keep your drawers mess-free. Aside from the mixer you also get 2 full-sized chrome beaters which are dishwasher safe.
SPECS AND FEATURES
Adjustable speed settings, according to the nature of ingredients
Comfortable grip on the handle
Sturdy and powerful motor
Full-size chrome beaters
220-watt motor
6-speed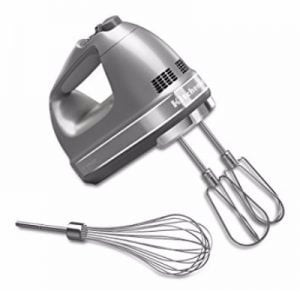 8.9/10
Pros
Works quietly
Handy in size
Light in weight
Available with one-year warranty
Dishwasher safe
Cons
Little pricey compared to other similar machines
This 7-speed KitchenAid hand mixer is highlighted by 7 speeds which lets you get the perfect consistency whether you're on the 7th speed and whipping meringue or 4th setting mashing potatoes. The adjustable speeds give you more control and makes it easier to get the desired consistency with anything you're mixing.
While starting out use the Soft Start feature which helps minimize splatter by slowly increasing the speed of the beaters. Other features include a locking cord, push button eject and a soft grip handle which users have said is significantly better than other hand mixers. All this at an affordable price and 5 color options to choose from.
SPECS AND FEATURES
Adjustable multi speed
Removable accessories are included
Soft start technology
Locks the cord to prevent interruption
7-speeds
Push button eject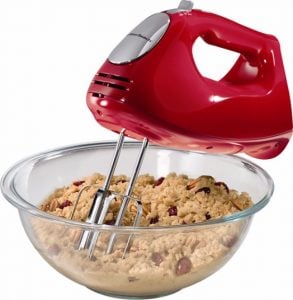 8.9/10
Pros
Provision of a snap on storage case to house cord or other accessories
Includes 5 attachments, (2 dough hook, 2 beaters and 1 whisk)
Provision of 6 speed settings
Integration of a quick burst button
Comes with a bowl rest feature in which the mixture rests on the bowl
Cons
Some users faced cleaning issues
This Hamilton Beach electric hand mixer is a basic model and perfect for those who don't need all the bells and whistles. It's powerful enough with 275-watts of peak power to mix through traditional home ingredients. There are 6-speed options onboard and a burst of power function when mixing thick batter or dough.
There is a one touch eject feature which makes it simple to release the attachment for simple cleanup. There's also a quick burst power button conveniently located which can be pressed while on any speed setting. This makes it easier to use on thicker ingredients as it gives you an extra burst of power at the touch of a button.
SPECS AND FEATURES
Product Dimensions: 9.9 x 3.3 x 10.5 inches
Item Weight: 3.5 pounds
Color: Red
275 Watts peak power
Dimensions (inches): 8.4 H x 3.3 W x 9.9 D
Material: Plastic and metal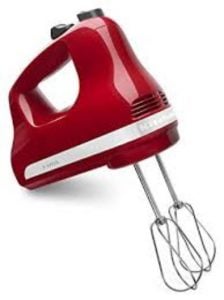 8.8/10
Pros
Doesn't make noise even at a maximum speed
Inexpensive
Available with 1-year replacement warranty
Cord can be placed on the right or left side for easy access to the inside of the bowl
Cons
User can get tired after holding it for an extended period
Another great KitchenAid hand mixer gets the 15th spot in this review sporting an ultra-power boost function perfect for mixing and blending thick ingredients. Available in 13color options it's certain you'll find your favorite color and will be easy to match the rest of your decor. Boasting a 5-speed option perfect for mixing eggs, nuts, chips and thicker ingredients like cake batter and dough.
The KitchenAid KHM512ER includes Stainless Steel Turbo Beater II accessories which are dishwasher safe and are recommended for mixing thick foods. For improved convenience you can lock the cord on the right or left side giving you easy access to the inside of the bowl from either direction and there is also a single button eject for your attachments.
SPECS AND FEATURES
Multi speed settings
Removable attachments
Available in 13 attractive colors
Ensures safe, smooth and even blending without mess due to soft start property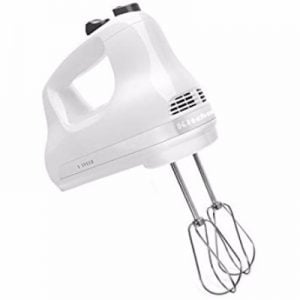 8.8/10
Pros
Inexpensive
Available with warranty
Made up of high-quality stainless steel
Sturdy motor
Cons
Not suitable for the blending thick ingredients
The KitchenAid Ultra Power Mixer has variable speeds from 1 – 5 which gives you more control over mixing, whipping and kneading dough. This helps give you the desired consistency over the final product which is something that all hand mixers should have. Aside from speed, this mixer boasts a lightweight frame that's comfortable to use.
When it comes to options no one does it better than KitchenAid, and you have plenty to choose from. With nearly 20 colors to choose from you can rest assured you'll find the perfect color for you. Other notable features including a lock-in cord so you can mix from any angle and it comes complete with Turbo Beater II accessories which are stainless-steel and dishwasher safe.
SPECS AND FEATURES
Adjustable speed settings, from 0 to 5
Lightweight
Removable turbo power beaters
Available in 20 attractive colors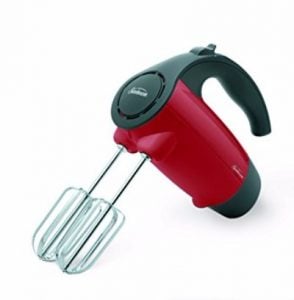 8.8/10
Pros
Light in weight
Inexpensive
Easy to Cary and manage
Adjustable speed
Compact design
Cons
Delicate to handle because of lightweight
Sunbeam has made a living of introducing great value in their products and this mixer is another example of just that. The Sunbeam FPSBHM2524R is an affordable, easy to use and highly practical hand held mixer that does exactly what you need without all the high-end features. Priced under $20 you get a mixer that you can depend on to mix and whip up your favorite ingredients.
This red/grey mixer is powered by a 200-watt motor which can handle conventional mixing tasks. The burst of power function gives you added power when you need it when mixing thicker ingredients and the 6 variable speeds gives you much more control. For added comfort, the soft grip handle offers just that. Aside from the mixer you also get 2 chrome beaters which can be washed in the dishwasher.
SPECS AND FEATURES
Variable yet controllable speed
2 chrome beaters
Burst of power feature
200-watt powerful motor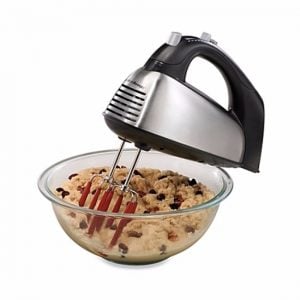 8.7/10
Pros
Has good quality coated beaters which softly scrape bowl for thorough mixing
The SoftScrape beaters would not scratch the bowls
Beaters can be safely used in nonstick pans
The hand mixer is durable and safe to be washed in dishwasher
Features a Quick burst button
Cons
No speed settings, works way too fast
Hamilton Beach makes another appearance in this review, but this time with the SoftScrape which is a 6-speed hand mixer. This high-quality mixer is affordably priced and is an Amazon best-seller with over 100 all-positive customer reviews. It's not too simple which is something customers have come to appreciate and gets the job done with ease.
The SoftScrape has 290-watts of peak power which is more than most used for conventional home mixing. Coming in around 4 pounds its slightly heavier than most but offers more durability which means you won't be replacing it anytime soon. Included is the mixer, dough hooks, whisk, wire beaters and a convenient case for storage.
SPECS AND FEATURES
Product dimensions: 10 x 9.8 x 4.5 inches
Item Weight: 4 pounds
290 Watts peak power
Includes wire beaters, dough hooks and whisk
Comes with a case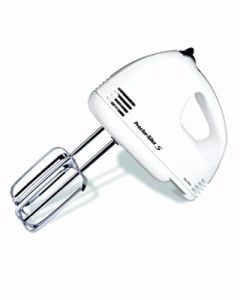 8.6/10
Pros
Attractive in look, durable in performance
Available with warranty
Compact design
Inexpensive
Cons
Less durability than most
Deserving the 19th spot in this review is a 5-speed hand mixer from Proctor Silex available in white. This mixer has a 5-speed setting which can easily be toggled from one speed or another while in use. This optimizes control and lets you perfectly mix any ingredient. For added convenience there's a bowl rest feature which lets you rest the mixer on the edge of the bowl while adding ingredients.
The Proctor Silex 62515RY includes full-sized chrome beaters. There is a beater eject button which makes it easy when it's time to cleanup and the beaters are dishwasher safe. This is an idea mixer at a great price and works wonders for mixing, whipping, beating, stirring and blending.
SPECS AND FEATURES
Adjustable speed settings
Bowl Rest feature
Chrome beaters
Light in weight
125-watt motor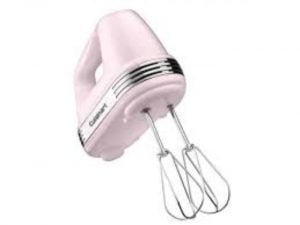 8.4/10
Pros
Easy to handle speed control
Beater eject lever for easy beater removal
Longer self-cleaning beater without center post
Includes a recipe book/ instruction manual
Includes a plastic spatula
Cons
This pink hand held mixer from Cuisinart gives you a 5 speed variable setting which makes it easy to change the speed while mixing. This optimizes user control and allows you to adjust the speed depending on what you're mixing and puts the toggle in a convenient location. Powered by a 220-watt motor makes it perfect for stirring, whipping, mixing and beating.
The Cuisinart HM-50PK is affordably priced and is only available in a pink color. This model does what you would expect and includes a spatula and recipe book. Other features include a swivel cord which makes it easier for both right-handed and left-handed users, variable speed control and auto eject button to make cleanup easier.
SPECS AND FEATURES
Product Dimensions: 8.1 x 3.6 x 5.9 inches
Item Weight: 2.8 pounds
Item model number: HM-50PK
Color: Pink
Material Type: plastic
Peak power: 220 watts
Includes: Stainless steel beater and plastic spatula
Conclusion
Hopefully this review on the best hand mixers available in 2020 makes your buying decision easier. If we left anything out or if you have anything to add why not leave us a comment below.